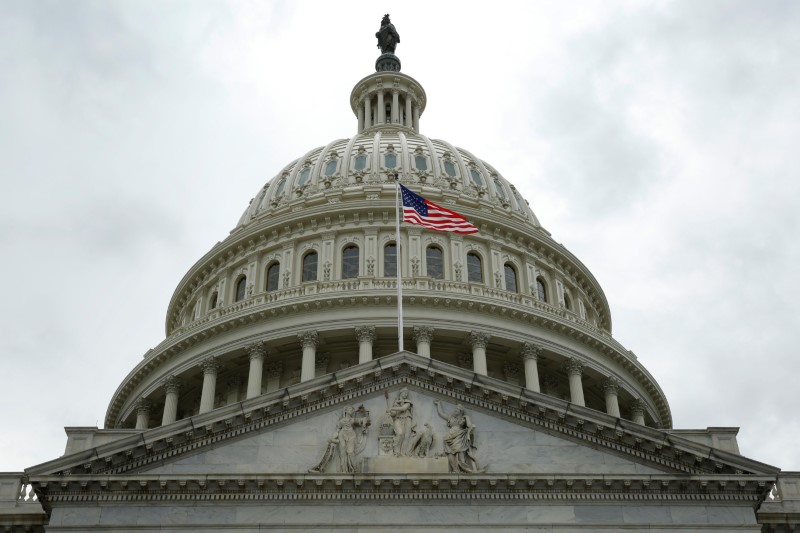 © Reuters. U.S. Capitol is seen after the House approved a bill
By Richard Cowan and Susan Cornwell
WASHINGTON (Reuters) - A seven-year push by U.S. Republicans to dismantle Obamacare and kill the taxes it imposed on the wealthy will reach a critical phase on Thursday when Senate Republican leaders unveil a draft bill they aim to put to a vote, possibly as early as next week.
Senate Majority Leader Mitch McConnell and his lieutenants have worked in secret for weeks on the bill, which is expected to curb Obamacare's expanded Medicaid help for the poor and reshape subsidies to low-income people for private insurance.
Those subsidies are expected to be linked to recipients' income in the Senate bill, a "major improvement" from a measure approved last month by the U.S. House of Representatives that tied them solely to age, Republican Senator Susan Collins of Maine said.
Some of the Senate bill's provisions could be political land mines, with individual senators' reactions to it crucial to determining whether or not the Affordable Care Act, popularly known as Obamacare, survives a Republican attack that has been under way since its passage in 2010.
The Washington Post reported on Wednesday that the bill would seek to repeal most of the taxes that pay for Obamacare, give states more latitude to opt out of its regulations and eliminate federal funding for Planned Parenthood, a healthcare provider that offers abortion services.
Former Democratic President Barack Obama's signature domestic policy achievement has been a target of Republican wrath for years. But even with control of both chambers of Congress and the White House since January, the party has struggled to make good on its bold campaign promises to repeal and replace Obamacare.
The law is credited with expanding health insurance to millions of Americans. Republicans say it costs too much and involves the federal government too much in healthcare. President Donald Trump made Obamacare repeal a centerpiece of his 2016 campaign and celebrated the House-passed bill.
Democrats accuse Republicans of sabotaging Obamacare, and say the Republican bill will make healthcare unaffordable for poorer Americans while cutting taxes for the wealthy.
TOUGH SELL
But McConnell may have a tough job convincing enough Republican senators that the Senate bill improves on the House version. A Reuters/Ipsos poll found nearly 60 percent of adults believed the House bill would make insurance costlier for low-income Americans and people with pre-existing conditions. Only 13 percent said it would improve healthcare quality.
The non-partisan Congressional Budget Office estimated the House bill would kick 23 million people off their healthcare plans. Healthcare is a top priority for voters and many Republicans fear a legislative misstep could hurt them.
Collins said she would weigh the CBO's upcoming assessment of the Senate bill's impact on costs and coverage.
Conservative Republican Senator Rand Paul, who wants a full repeal of Obamacare, said he feared that with the legislation being developed, "we're actually going to be replacing Obamacare with Obamacare," referring to the continuing role of government.
If legislation is to prevail in the Senate, McConnell can lose the support of only two of his 52 Republicans, assuming all 48 Democrats and independents oppose the bill, as expected.