Treasury Yields Are Surging and Bond Traders Are Starting to Get Nervous
Posted By : Tradingserve.com
2018-01-10| Bloomberg.com| News
The 10-year U.S. Treasury yield climbed to the highest level in more than nine months, leading Bill Gross at Janus Henderson Group to declare a bond bear market just ahead of a deluge of sovereign debt sales.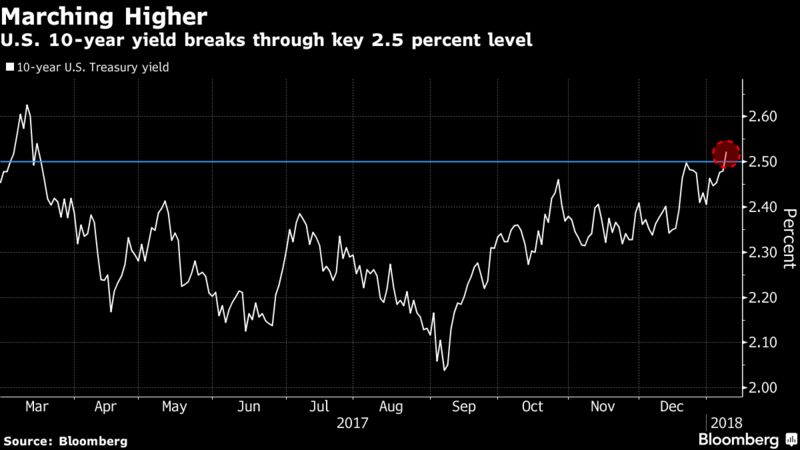 The benchmark U.S. yield rose as much as six basis points to 2.54 percent, a level last seen in March, and the Treasury curve steepened the most in three weeks, as a looming glut of bond supply from the U.S., the U.K., Japan and Germany coincided with a surprise cut in purchases of long-dated Japanese government bonds by the Bank of Japan.
Even though central bank watchers said the BOJ's actions aren't interpreted as an imminent shift from ultra-accommodative policy by Japan's monetary authority, it's yet another sign of central banks stepping back from global bond markets -- just as the U.S. is about to sell the most debt in eight years. Add to that rising market expectations around inflation, and traders are starting to wager that Treasuries are about to break out of their tightest range in a half-century.
"We're seeing a lot of overseas buyers who would come in every time we'd have a move close to these levels who aren't coming in anymore," said Michael Franzese, New York-based head of fixed-income trading at MCAP LLC, a broker-dealer. "That's kind of scaring me a little bit. One eye is constantly on the exit button."
The 10-year yield moved above 2.5 percent earlier Tuesday before paring its gain, and then resumed its upward shift in U.S. trading hours, making fresh highs. It was at 2.542 percent as of 12:16 p.m. in New York. The yield curve from two to 10 years steepened by 5.4 basis points, the most in over a year, to 57.43 basis points.
Gross's Call
Gross, the billionaire fund manager at Janus, said Tuesday on Twitter "bond bear market confirmed," with 25-year trend lines broken in five- and 10-year Treasury maturities. He said last year that 10-year yields persistently above 2.4 percent would signal a bear market, though added in an interview last week that even in such an environment, investors probably won't lose a lot of money.
More than $60 billion in combined bond sales by the U.S., the U.K., Japan and Germany are set to take place this week, which may test the appetite of investors for debt at current levels. The bulk of that comes from the U.S., which will start with a $24 billion three-year note sale Tuesday and follow with a $20 billion 10-year offering on Wednesday.
U.S. issuance is expected to rise in 2018 on the back of the budget deficit and recently passed tax legislation. Meanwhile, support for lower yields may wane as the Federal Reserve reduces its balance sheet and other central banks contemplate exit strategies.
The Bank of Japan's decision to trim its regular purchase of longer-dated debt sparked some nervousness among traders that helped precipitate the move higher in U.S. yields. While investors are right to expect a longer-term shift toward normalization by the BOJ, the most recent move by the central bank doesn't have any new policy implication, said Junko Nishioka, chief economist at Sumitomo Mitsui Banking Corp. in Tokyo and a former BOJ official.
Martin van Vliet, a senior interest-rate strategist at ING Bank NV, underscored the spillover effects on Treasuries from the Japanese and German bond markets, noting that there's "a lot of supply" coming in euro-area government bonds and the sovereign-related market. "If the 2.50 percent is breached more aggressively, the path to 2.60 percent will be wide open," for the 10-year Treasury, he said.
Inflation Expectations
Investors are also starting to price in quicker inflation. The 10-year breakeven rate, a proxy for the annual inflation rate the market expects for the next decade, climbed Tuesday to about 2.05 percent, the highest in 10 months. The increase shows traders may be bracing for Friday's consumer price index data, which some see as the final hurdle to elevated Treasury yields.
Antoine Bouvet, an interest-rates strategist at Mizuho International Plc, said that the latest move higher in Treasury yields is part of a fundamental trend that should persist in 2018.
"The economic backdrop is more than enough to keep the Fed on its tightening course and loose financial conditions is making this easier for them," Bouvet said. "In addition, the support of the Fed's balance sheet to the UST market is slowly eroding."
By year-end, Bouvet predicts the 10-year Treasury yield will touch 2.7 percent. The median forecast in a Bloomberg survey calls for it to climb to 2.92 percent over the same period.
— With assistance by Stephen Spratt