Kraft Heinz Co.'s $143 billion bid for Unilever NV collapsed just two days after it became public knowledge, with the adamance of the Anglo-Dutch target's rejection said to play into billionaire Warren Buffett's longtime aversion to hostile deals.
Unilever shares fell as much as 7.9 percent in early trading in London on Monday, reversing some of their gain Friday after the U.S. maker of ketchup and baked beans disclosed its approach.
The decision not to pursue what could have been the largest-ever takeover in the food and beverage industry came after 3G Capital and Buffett's Berkshire Hathaway Inc., which together own about half of Kraft Heinz, decided that Unilever's negative response made a friendly transaction impossible, leaving no choice but to walk away, people with knowledge of the situation said.
Both also believed that a protracted war of words wasn't in the best interest of Kraft and would risk souring future deal opportunities, the people said, asking not to be named because the process was private.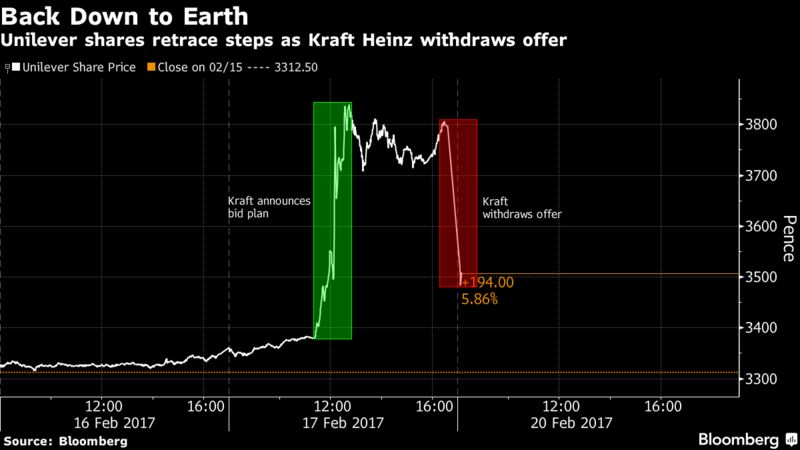 While there were minor concerns about opposition from the U.K. government, according to one of the people, the companies were optimistic that they could win the backing of Westminster with a friendly deal. Prime Minister Theresa May had asked officials to study the proposed takeover in the wake of the country's vote to exit the European Union.
"Kraft Heinz's interest was made public at an extremely early stage," spokesman Michael Mullen said Sunday in an e-mailed statement. "Our intention was to proceed on a friendly basis, but it was made clear Unilever did not wish to pursue a transaction. It is best to step away early so both companies can focus on their own independent plans to generate value."
Representatives for Omaha, Nebraska-based Berkshire Hathaway and 3G, based in New York and Sao Paulo, didn't respond to messages seeking comment Sunday.
Unilever, in rejecting the $50-a-share offer, said the proposal "fundamentally undervalues" the household-products maker. Its management fretted behind the scenes about the cost-cutting model at Kraft, which sells products like Velveeta and Jell-O, and its lack of vision for cultivating brands, people familiar with the situation said.
Hasty Proposal
Shares of Unilever jumped 13 percent Friday in Amsterdam, closing at a record high. Kraft Heinz, based in Pittsburgh and Chicago, climbed 11 percent to a record in New York trading.
"We expect the seismic shock to reverberate for a while yet: not least in terms of what it means for value perceptions of Unilever and whether Kraft Heinz might yet offer a welcome home for some or all of Unilever's foods assets," Martin Deboo, an analyst at Jefferies, said in a note.
Kraft's overture followed a 2.5 percent decline for Unilever's stock in 2016, its worst annual performance since the financial crisis in 2008. Shares of European rival Nestle SA fared only marginally better, losing 2 percent.
The quick withdrawal of Kraft's offer is surprising because Unilever's defenses weren't very formidable, such as its low stock ownership by management, said Ken Shea, a senior analyst at Bloomberg Intelligence. Kraft's credibility may take a hit going forward, he said.
"The strange episode suggests that Kraft Heinz acted a bit hastily with its takeover plan, and evidently did not think it fully through," Shea said. "Also, the timing and size of the bid -- coming just after its earnings conference call on Wednesday last week, in which it downplayed the need for acquisitions -- likely leaves their Wall Street credibility diminished."
The proposed deal would have created a company with combined sales of $84.8 billion last year, second only to Switzerland-based Nestle. The business would have been a packaged-food giant, encompassing brands like Kraft Macaroni & Cheese, Heinz Ketchup, Ben & Jerry's ice cream and Marmite, a concentrated yeast extract spread.
Berkshire, 3G
The bid reflected consolidation desires among consumer-goods companies, which are searching for ways to increase profitability as consumer habits shift and conditions for the industry become tougher globally. Kraft Heinz itself was forged in a $55 billion combination orchestrated in 2015 by 3G and Buffett's Berkshire, which had teamed up two years earlier on a buyout of H.J. Heinz.
Berkshire owns about 27 percent of Kraft Heinz, and 3G holds about 24 percent, according to data compiled by Bloomberg. In its 2015 annual report, Berkshire said it "will join only with partners making friendly acquisitions."
While product overlaps between Kraft Heinz and Unilever are minimal, the enlarged company may have created concerns for antitrust officials as the business would gain considerable bargaining leverage over suppliers and supermarkets, said David Kully, an antitrust lawyer at Holland & Knight. The risk would be that a bigger Kraft Heinz would control such a wide product line that it could impose a price increase on supermarkets by threatening to withhold popular items, said Neil Wilson, an analyst at ETX Capital in London.
"It would create a giant in the sector," said Wilson. "The combined entity would have a huge brand footprint and be able to flex bargain muscles even more."
News from Bloomberg.com